There wasn't a dry eye in the room as Richard Nell bravely took to the stage at the Telethon Leeuwin lunch on Sunday to speak about the battle to save the life of his toddler son Kai.
Diagnosed with acute myeloid leukaemia at the age of two, Kai endured months of chemotherapy and had two bone marrow transplants before doctors broke the news they could do no more for him.
It was three days before Christmas when Kai's family was told he had relapsed for a second time and had only weeks to live. The little boy who loved dancing and Buzz Lightyear died in January 2017 just weeks before what would have been his fourth birthday.
Mr Nell, who is now president of the Kids Cancer Support Group, received a standing ovation after he shared his story with 158 of Perth's most generous leaders who attended the exclusive lunch on Sunday to raise funds for Telethon.
A record total of $5.02 million was raised at the event hosted by the Horgan family at their Leeuwin Estate winery in Margaret River.
"There was a lot of tears," Mr Nell said.
"It's our way of giving back. His life wasn't just that he'd had cancer, his legacy has gone on and inspired other people to join bone marrow registries."
Mr Nell, who is originally from England, also told attendees he took comfort in the fact the tragedy had happened in WA. "Because everything we needed for Kai in that journey we got," he said. "Being in a State like WA where you've got people like this who are so unbelievably generous … it's quite emotional to think that complete strangers do care."
Australian Paralympian Priya Cooper also shared the enormous impact that Telethon has had on families, including hers.
The world champion swimmer who has won nine gold medals was born with cerebral palsy.
"I've had a connection with Telethon since I was 12 months old," she said.
"And now my connection is more so through my (15-year-old) son. We found out when he was two or three years old that we had hereditary cerebral palsy, so we then embarked on a journey with Telethon to get him services to help him."
The exclusive guest list of attendees, who were invited to buy seats, were flown by Qantas and Network Aviation from Perth and transferred to the picturesque location by South West Coach Lines.
Up for auction at the lunch was medical and other equipment from Telethon's wish list which donors could bid on to help beneficiaries including Perth Children's Hospital, Riding for the Disabled Carine, Women's and Infant Research Foundation, Kalparrin, Redkite, St John of God Foundation, Fostering Hope, Rocky Bay, Helping Little Hands and Edmund Rice.
The equipment included items such as a $14,000 ventilator for children living with conditions that affect their respiratory health, a portable ultrasound machine worth $49,500 and neonatal ventilators costing $58,000.
There was fierce bidding for experiences such as a private dinner for 10 at Government House hosted by WA Governor Chris Dawson, the chance to attend the AFL grand final and a four-course dinner at Fraser's Restaurant with Premier Mark McGowan.
Among the attendees was long-time Telethon supporter Elizabeth Perron, executive chair of the Stan Perron Charitable Foundation, which became a million dollar partner of Telethon in 2018 and has donated almost $15 million over the years.
Mining giant BHP's top executives attended the lunch, including chair Ken MacKenzie, chief operating officer Edgar Basto, iron ore asset president Brandon Craig, Nickel West asset president Jessica Farrell and non-executive director Terry Bowen.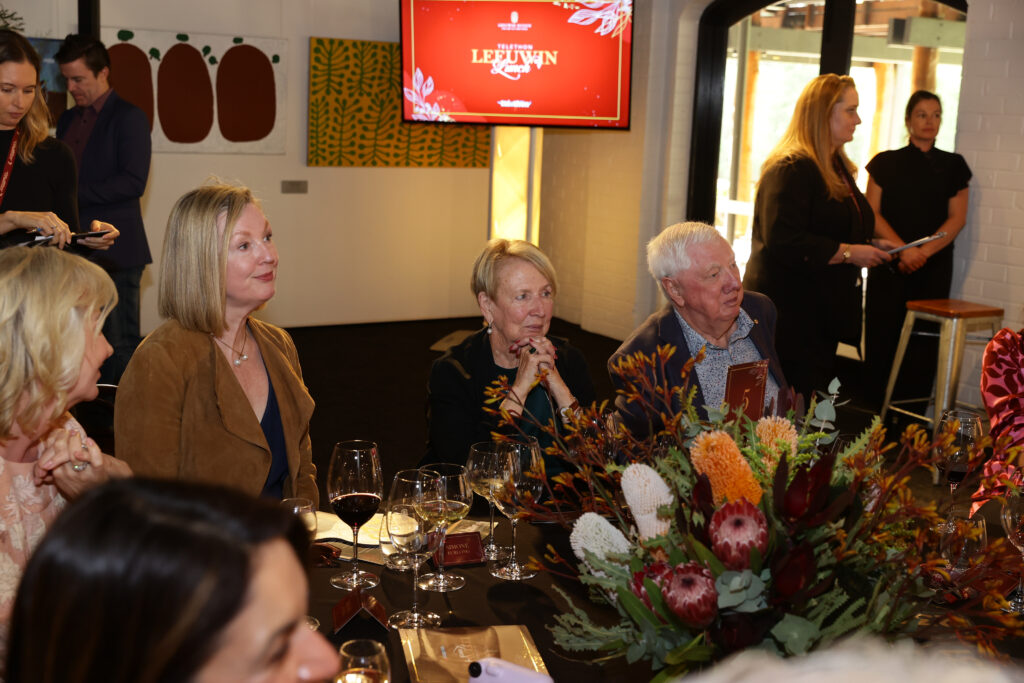 Denis and Tricia Horgan AM. Credit: John Koh/The West Australian
The miner purchased two of the wishlist items — including vital equipment for King Edward Memorial Hospital's neonatal intensive care unit and a program for WA families of children with cancer in regional WA. BHP has donated more than $36 million over the past decade to Telethon.
One of the marquee auction items of the day was the $220,800 electric Audi e-tron GT generously donated by Audi Centre Perth managing director Bronte Howson and his wife Colleen, who also contributed significantly on the day.
Seven West Media chair Kerry Stokes and Christine Simpson Stokes were the successful bidders for the electric car.
A mystery auction item attracted serious bidding — and was successfully won by Liontown Resources chair Tim Goyder — when it was revealed as a catered suite at Optus Stadium to the upcoming Coldplay concert.
And a Fremantle Dockers inner sanctum experience was so popular that Fremantle Football Club chief executive Simon Garlick agreed on the spot to provide a second experience for two bidders.
Dockers diehards Rod Jones and his son Scott from Navitas were one of the successful bidders, it was among several major donations made by the Jones family throughout lunch.
Philanthropist and Telethon trustee Tim Roberts once again gave a very significant donation, while tech wizard Laurence Escalante also made a big debut donation from his home office, Lance East Office.
Kate and Ross North successfully bid on an experience where celebrity chef Guillaume Brahimi will cook in the privacy of their home.
Thanks to the generosity of Luke Wyllie's Corsaire Aviation and Leeuwin Estate, generous donors on the day Steve and Susanne Gulvin and Victor and Simone Paz will be enjoying return flights to Margaret River and a Leeuwin long lunch with friends.
Original article published on thewest.com.au here