Over the past 47 years the people of Western Australia have donated over $200 million to Telethon – THANK YOU WA!
There were plenty of major donations from the big end of town, but as always it was the generosity of the people of Western Australia that shone through raising a record breaking total of $25,854,524 over the weekend.
See how 7 News covered the event after the weekend.
The 2015 Telethon weekend kicked off with spectacular performances from Perth's very own 2012 The X Factor winner and actress Samantha Jade, as well as fellow The X Factor contestants Nathaniel and Reigan Derry. These incredible opening performances drew large crowds at the Perth Convention and Exhibition Centre, while the lucky Little Telethon stars, 10 year old Alyssa Bolger and Jayton Carter charmed audiences everywhere.
The amazing 26 hours live-on-air weekend saw more than 300 TV production crew at work; more than 200 lights; 60 plus microphones; 55 hair and make-up artists; more than 600 entertainers; 100 Virgin Australia flights and more than 1,000 volunteers which made the Telethon weekend the most successful ever. Staff of Channel Seven Perth and The West Australian led an army of volunteers to deliver another hugely successful weekend.
To start the weekend, Prime Minister Malcom Turnbull committed a Federal Government donation of $1.5 million, which was presented by Deputy Prime Minister Julie Bishop. Over 800 stylish guests at The Lexus Ball excelled in their generosity raising an unprecedented $1 million.
Premier Colin Barnett handed over a cheque for $500,000 from the State Government on behalf of all West Australians. For the second year BHP Biliton donated $4 million dollars as part of their $20 million five year deal, with the donation being directed towards The Telethon Kids Institute. Andrew and Nicola Forrest's Minderoo Foundation donated $1 million, by matching all of the donations phoned through to the Sunday Times Call Centre in the first four hours of Telethon on Saturday night. Perth businessman, Tim Roberts, another Million Dollar Partner, generously donated $1.5 million this year. Malcolm, Tonya and Carolyn McCusker generously donated $1.1 million from the McCusker Charitable Foundation. Milllion Dollar Partner, Ramsay Health Care donated $1 million and Wesfarmers donated $1.25 million as part of their $5 million, four year deal.
Here's how The West Australian covered the weekend on Monday October 19, 2015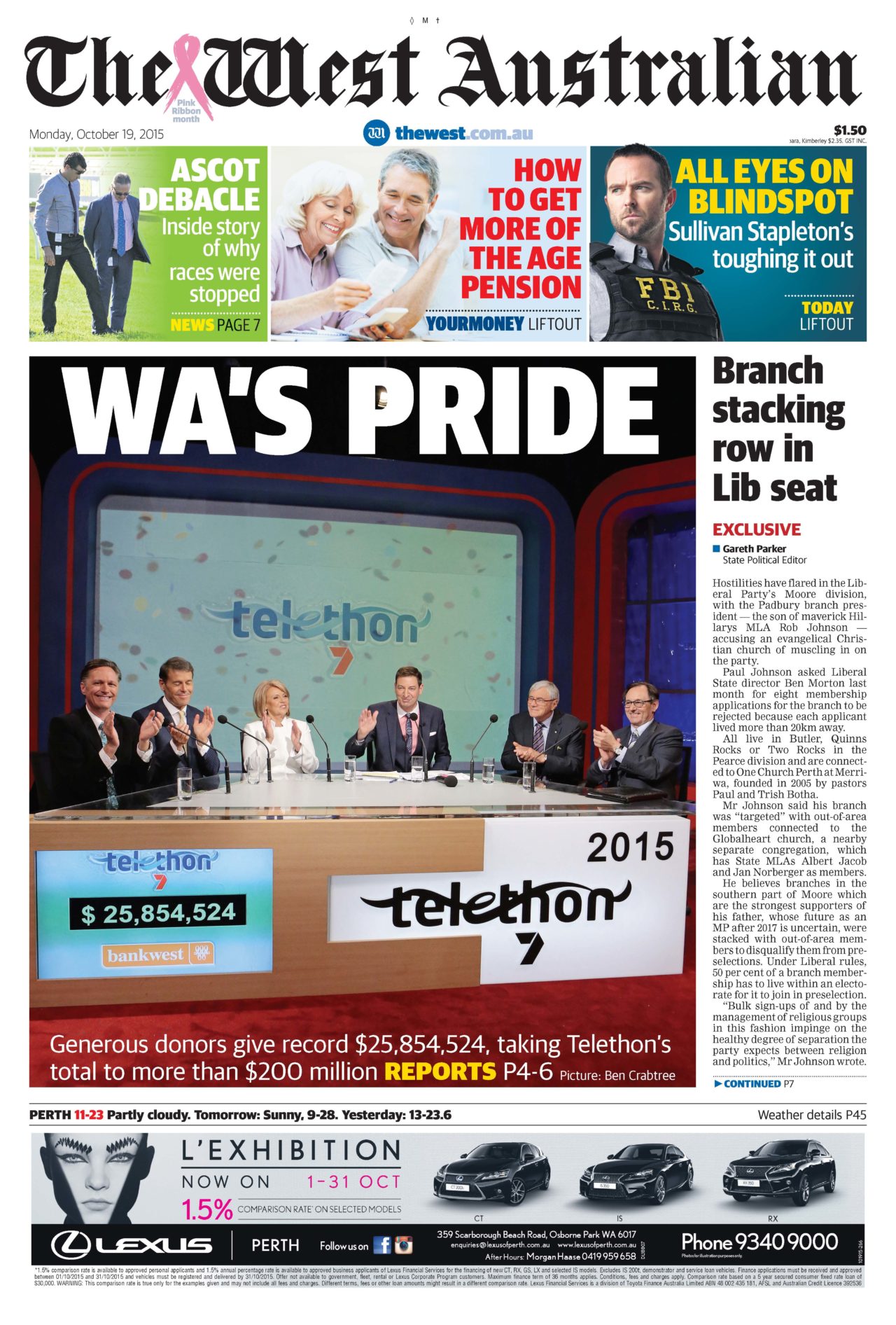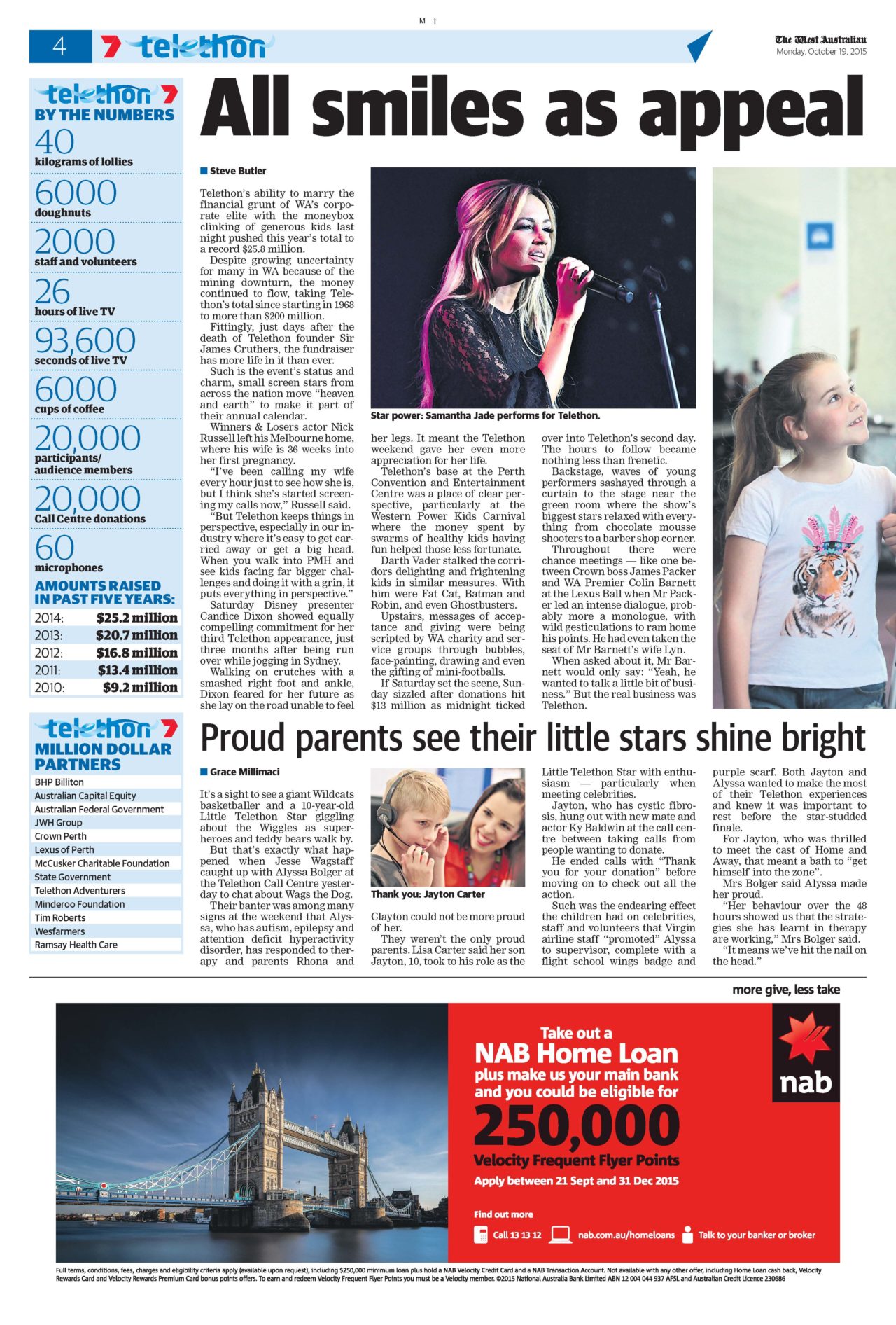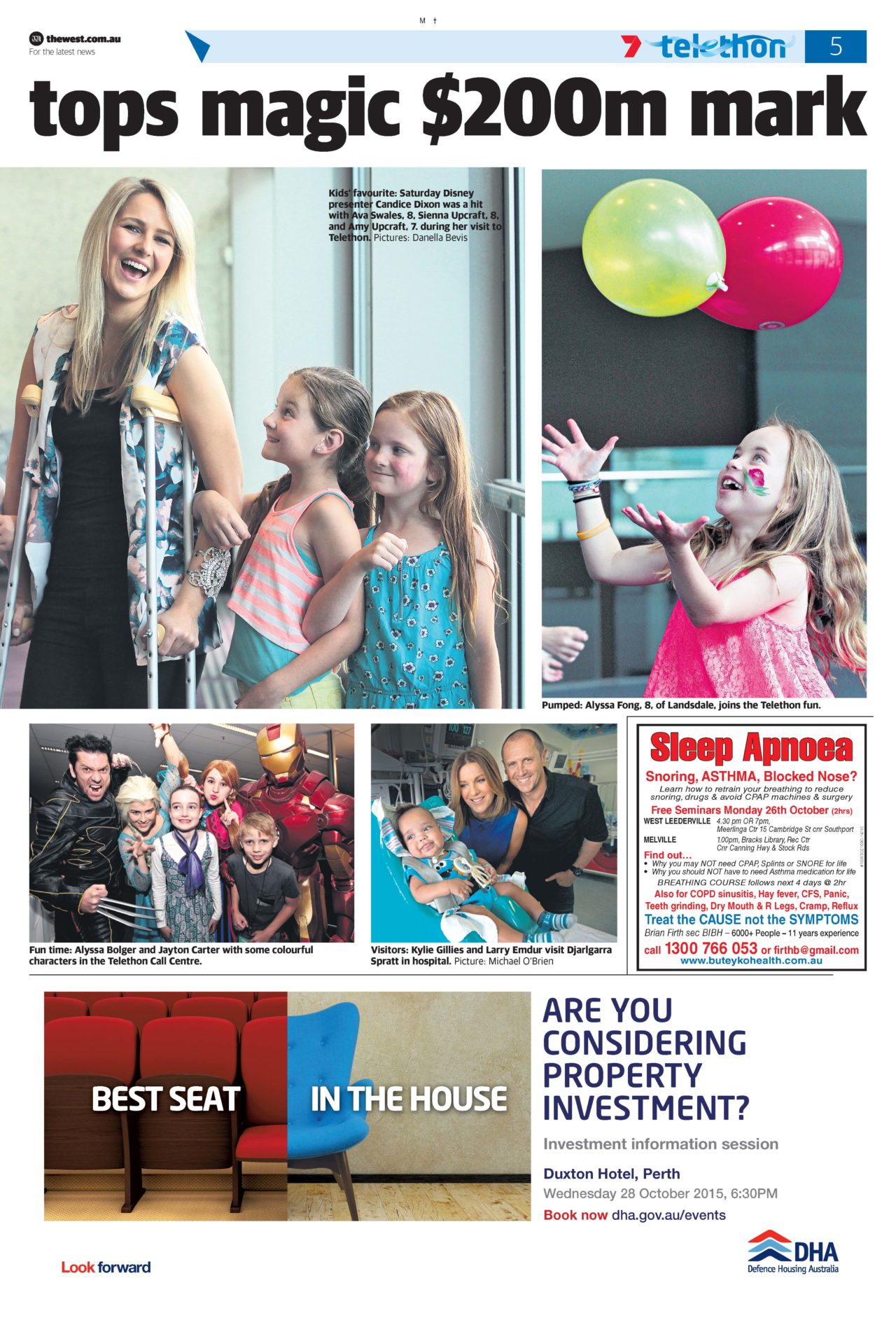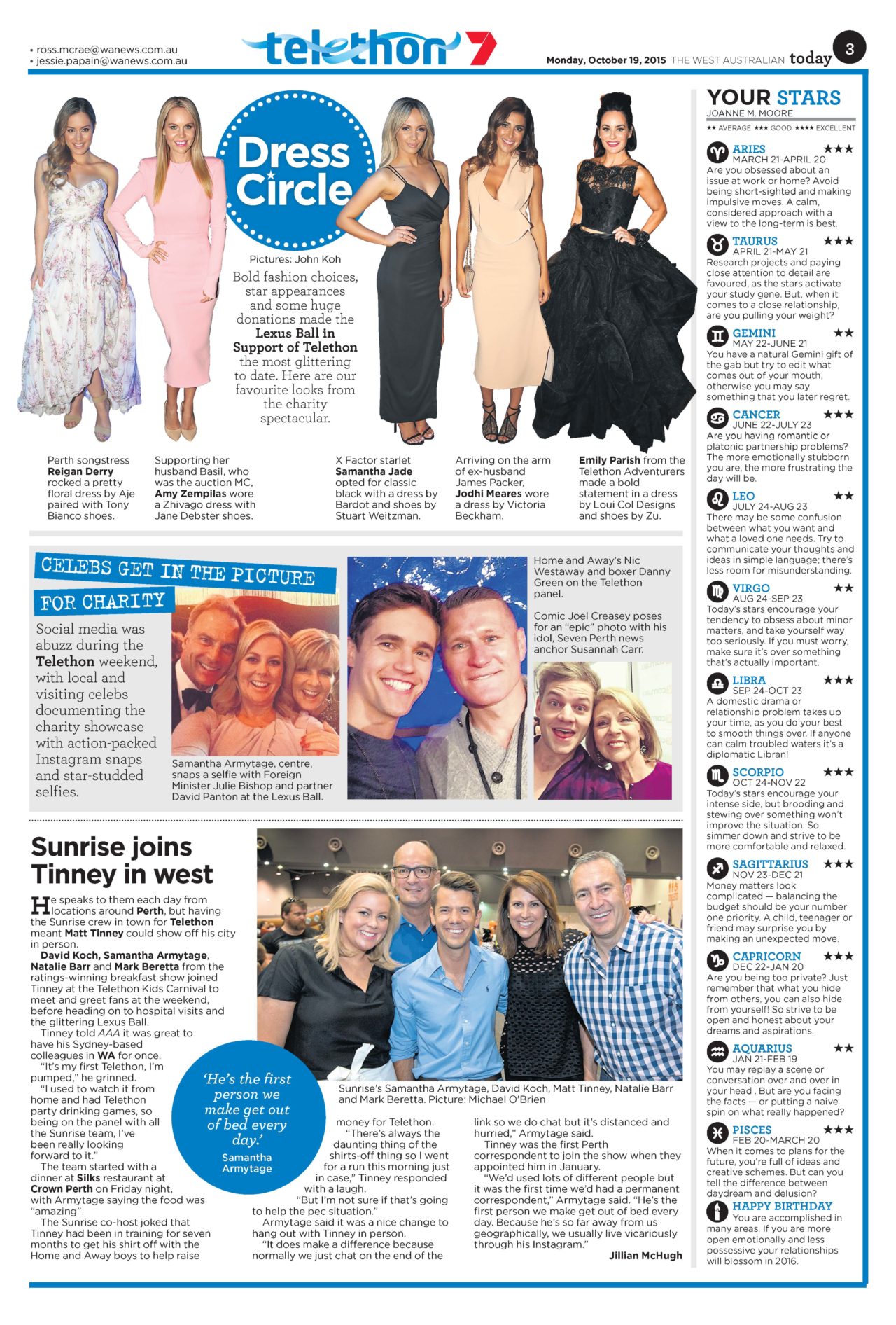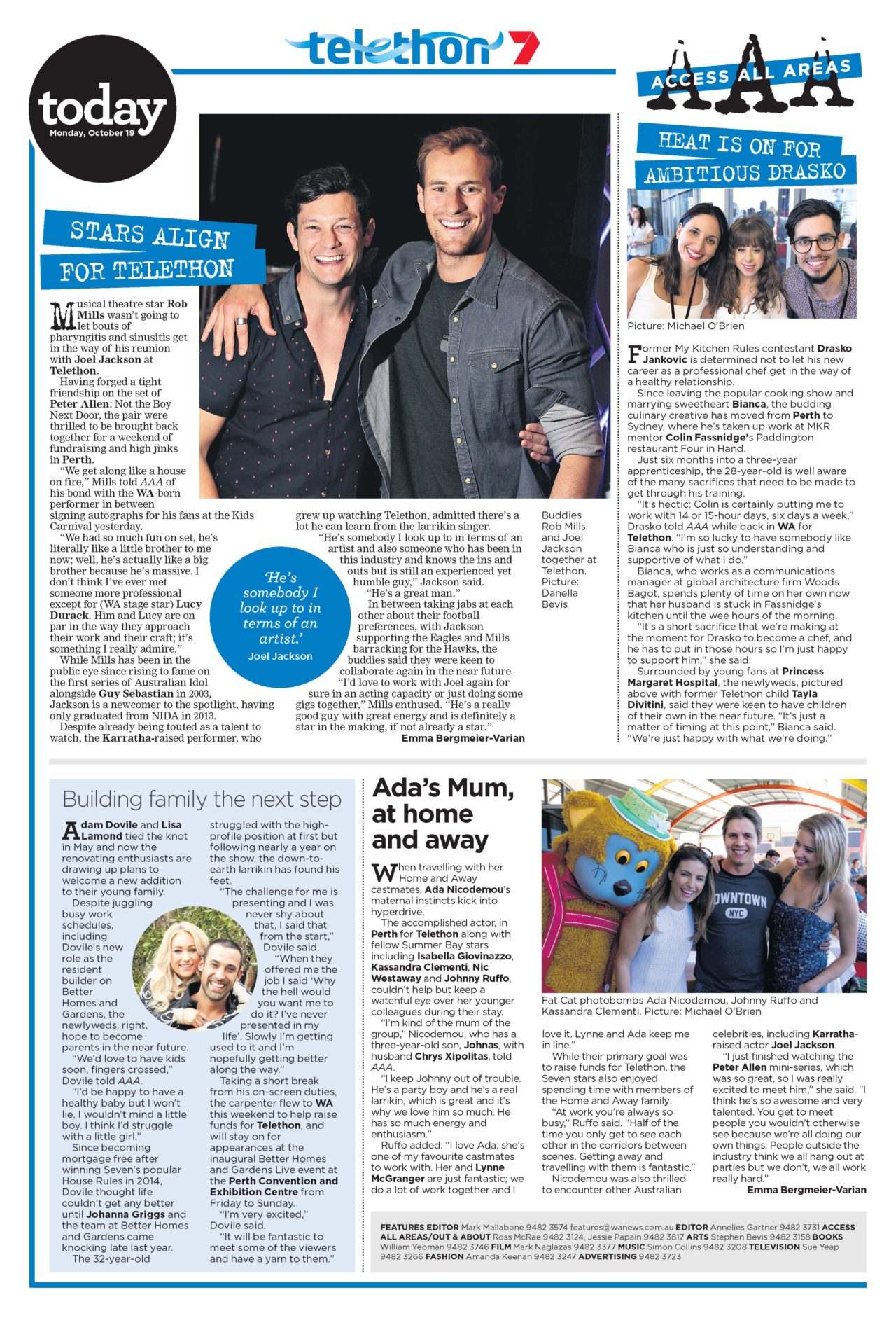 On Sunday, House Rules judge Wendy Moore and Better Home and Garden's Adam Dovile joined Rick Ardon at the 2015 Catalina Telethon Home by In Vogue in Clarkson which sold at auction for $707,500.
Long-time supporters Crown Perth launched "Cash Cow Millions from Crown" where personalities participated in a series of exciting bucking challenges which raised an enormous $2.5 million. Crown has now donated over $10.6mllion to Telethon.
The Online Auction which ran throughout the weekend raised a staggering $92,000. A standout item was Nat Fyfe's cane, famously used at this year's Brownlow Medal count selling for $19,950. One lucky music lover also snapped up a Yamaha baby grand piano for $9,100.
The local community of Cunderdin also raised an impressive $11,292.35 to support
Little Telethon Star, Jayton Carter.
Ex-rugby player, Matt Fuller and Soa "The Hulk" took to the ergo grinder for 24 hours with Peard Real Estate donating $40,000 and many other supporters donating online.
The Spud Shed's Tony Galati arrived at the Perth Convention and Exhibition Centre on Sunday afternoon to support his good friend Soa "The Hulk" and generously handed over a cheque for $50,000.
To cap off another successful Telethon weekend, Executive Chairman of Seven West Media, Kerry Stokes generously contributed $1.5 million on behalf of his private company Australian Capital Equity.
Telethon CEO, Steve Mummery was thrilled again with the result from the weekend.
"It's been a tough year out there for everyone in Western Australia, but it feels like every single person has dug as deep as they can to help make this Telethon the best one ever. Reaching another record of $25,854,524 is something that every West Australian should be incredibly proud of," he said.
Social media again played a huge role in connecting celebrities with their fans across the Telethon weekend, with loads of talent taking to the Telethon Twitter, Facebook and Instagram feeds to interact live with people across Western Australia. This year #telethon7 was globally trending throughout the weekend, ending with over 105,000 followers across its social media channels and reaching millions around the world.
2015-10-19 The West Today Section P12015-10-19 The West Today Section P2
A huge line-up of Seven Network talent flew in from around Australia including Benson Jack Anthony (Arlo Turner), Michelle Langstone (Fiona), Emma Leonard (Tracey), Erik Thomas (George Turner) and Melina Vidler (Shay Turner) from 800 Words; Adam Doville from Better Homes and Gardens; Brydon Coverdale (The Shark) and Matt Parkinson (Galiath) from The Chase Australia; Charlie Clausen (Zac Macguire), Kassandra Clementi, (Maddy Osborne), Tessa De Josselin (Billie), Jackson Gallagher (Josh Barrett), Isabella Giovinazzo (Phoebe Nicholson), Scott Lee (Hunter), Matt Little (VJ), Lynne McGranger (Irene Roberts ), Ada Nicodemou (Leah Patterson-Baker), Philippa Northeast (Evelyn MacGuire), Johnny Ruffo (Chris Harrington), Jake Speer (Oscar MacGuire ) and Nic Westaway (Kyle Braxton) from Home and Away.
Other 7 Network shows were represented well too with Carolyn Burns-McCrave, Wendy Moore and Joe Snell from House Rules, Larry Emdur and Kylie Gillies from the Morning Show; Ky Baldwin (young Peter Allen), Joel Jackson (Peter Allen) and Robert Mills (Chris Bell) from Peter Allen; Candice Dixon and Teigan Nash from Saturday Disney; Samantha Armytage, Natalie Barr, Mark Beretta and David Koch from Sunrise and Nick Russell (Gabe Reynolds) from Winners and Losers.
Local West Australians who appeared on our screens throughout the year, Brian and Karina Day from House Rules; Eva and Debra, Kat and Andre, Bianca and Drasko from My Kitchen Rules.
They were joined by 7's Perth stars – Rick Ardon, Susannah Carr, Basil Zempilas, Angela Tsun, Geof Parry, Adrian Barich, Alexis Donkin, , Blake Johnson , Ryan Daniels, Jessica Vanderende, Kate Smithers, Amelia Broun, Rebecca Marsh, Rebecca Picton-King, Jordan Cutts, Rob Scott and Grant Wynne from Seven News Perth and Today Tonight's Monika Kos, Mark Gibson, Graeme Butler, Cassie Silver, Mark Readings, Syan Dougherty, Belinda Wilkinson and Tina Altieri.
Plus many of Perth's radio personalities from Mix 94.5, 92.9, Nova 93.7, 6PR, 96FM, 6iX and Curtin FM.
Also making their way to Perth to perform were Samatha Jade, Nathaniel, Reigan Derry, Taylor Henderson, Pseudo Echo, Dennis Locorriere ( the voice of Dr Hook), Rachel Beck and two of the Top 12 in this year's The X Factor, Dan Hamill and Perth's own Fisher Boys, and a special performance from Darryl Braithwaite, who wowed the audience at The Lexus Ball earlier on Saturday night.
In 2016 Telethon will be held on October 15 and 16.